I want to write a post. The topic of this post is going to be about writing, and writing prompts.
A lot of the time if there's a writing prompt given in class, at first people are like WHAT THE HELL DO I WRITE? I ONLY HAVE 15 MINUTES? THAT'S LIKE NOTHING.
Before I write, if I'm given a prompt (whether it be for a test, or for creative writing–which is much more fun in my opinion), then I have to think a little before I even start writing. The teacher's usually: Don't stop writing, this is a free-write, go until the time is up.
In that case, I usually start writing nonsense before I get my thoughts together and write English words that make sense together.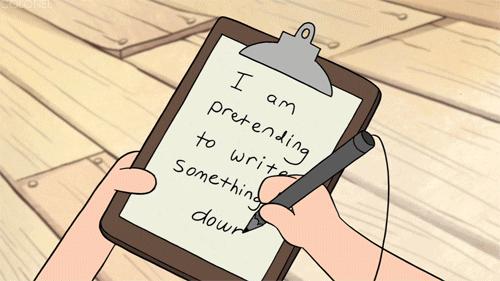 I think writing prompts can really help bring out ideas. Only if the prompt is good. While "start with this line" is good, then every one of those stories that come from it have the same beginning. As an exercise, I think that is good in some ways, but that still hinders some creative thought.
I like the prompts that say do these things in the story, or use this style. One prompt I'm reminiscing about is a prompt given by Figment.com. I talked about this site before in one of my earlier posts.
"A story told with texts, emails, files, and recordings."
That was the prompt. #figmentfiles was the tag, in case you're interested in checking out some others on Figment!
The funny thing is, that I forgot I had written this. I re-posted it to Wattpad.com because that was the site I was leaning more towards working with. When someone commented on it, I went back and read it over again.
It was confusing to me, but I understood where I was going. It's a story called: The Bridge.
If you would like to check it out and see where I took that prompt, you can click HERE. Usually there is a word limit to figment short stories in contests, but I can't remember exactly. I think it was 1,000 words.
Let me know what you think! I usually don't write in this style, but it was fun to try it out. If you want, go try the prompt out! Who knows, it might lead to something bigger and help you with ideas. Feel free to post your short stories of the prompt in the comments!
Over and out,
Rae
P.S. I wrote this the 10 minutes before class and now I'm running late! All for the name of writing! GOOD LUCK 🙂 Have fun with it!